Welcome to Southern Kentucky Chapter of Wild Ones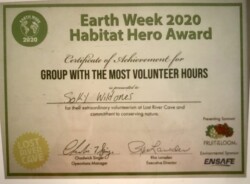 This chapter was chartered in March 2020 and serves the area around Bowling Green KY. We have monthly on-line Zoom Meetings, go on field trips, hold plant sales, and work on gardening projects. Our in-person meetings are usually in the River Birch Room of Lost River Cave. You are welcome to attend, and we encourage you to join as a member.
Many members of our chapter volunteer at Lost River Cave in Bowling Green. Our chapter was named a "Habitat Hero" for having the most volunteer hours during 2020 September Earth Week.